In India diabetes is not an unknown term these days, the frequency of diabetes is rising at an alarming rate.
A metabolic state wherein the blood sugar levels rise above the average count is one of the easier explanations for diabetes.
However, there is the number of other implications and effects of this disease one of them being a low insulin count.
With a steady increase in the count of diabetics across the globe, the diagnosis of it is a wake up call for most people.
What Is Diabetes?
It is important for a person with diabetes to lead a healthy and balanced lifestyle, and that is where food plays a significant part.
I kept down a couple of dos and don'ts to keep your blood sugar level in check and live a life that is not managed by diabetes. These small things may make a big difference in your life!
Consume fibre rich food such as wheat bran, oats, green peas and bitter gourd to make up for the lack of other types of vitamins and minerals
.
Add fruits with less natural sugar in your regular diet. Fruits such as papaya, guavas and also apples are great for diabetics.
Consume small meals at daily intervals as an erratic meal schedules results in erratic blood sugar levels.
Avoid consuming starchy saturated food, packaged food that contain trans fats and foods with high sugar content.
Avoid consuming and

smoking

as much as possible. However an occasion glass of wine here and there should do fine only if your sugar level allows.
Work out daily and religiously as maintain a slim and fit body is very important to control diabetes.
Be aware and modernize– Stay informed about your state. The kind of diabetes you have, easier things you can do to improve your condition and most importantly always monitor your blood sugar levels.
Never skip your regular dose of medication.
Maintain a food journal and keep track of what you consume and when. This will do you more best than you can think.
The symbol for World's Diabetes day is a blue circle. The symbol goes superbly well with the message for the day.
In many cultures across the universe, a circle is a representation of life and good health. The colour blue is the colour of the United Nations flag and signifies the sky that unites us all.
Hence this blue circle symbol aims at uniting people worldwide to strongly overcome this pandemic!
Don't you denounce sugar and rice as soon as your sugar levels shoot up?
However, diet for diabetes is much more than restricting sugar and rice.
You may still crave for ice creams, chocolates, pizza or burger, but diabetes must be making you think that all this food items are completely taken away from your list for life long, am I right?
However, if you are following a proper well balanced diet for 6 days a week, you can easily treat yourself for 1 day.
Yes, you heard it right; you can eat one meal of your choice. The same follows even for the non-vegetarians
In this article, I'll be sharing 2 sample menus with you, one for vegetarians and the other for non-vegetarians.
These are the generalized balanced diet for diabetes, sugar peasant, which will help you maintain the diabetes normal range without fearing of any side effects. We will help to prepare a diet chart for sugar control.
Consuming non-veg for diabetes is considered harmful, but minimal amounts can be eaten as shown in the following diabetic diet chart.
1. Early Morning
1 tsp. of methi seeds (soaked overnight, gulp the seeds with water)
(You can take one fenugreek capsule per day as an alternative)
2. Breakfast
1 glass buttermilk + 1 bowl Oats/Broken wheat (daliya)
3. Mid-morning
1 fruit (As per the list given below). Make sure you are eating fruits properly.
4. Lunch
1 whole cucumber + 1 onion + 1 Chapatti (No ghee) + 1 cup vegetables (As per the list given) + 1 cup dal (less oil) + ½ cup brown rice
5.Afternoon (2 hours post lunch)
1 cup green tea + 1 tsp. flaxseeds roasted and grinded (Omega 3, 6, 9 veg capsules can be used as an alternative)
6. Evening Snack
4 almonds + 2 walnuts + 1 bowl of boiled sprouts
7.Dinner (Before 8 pm)
1 cup bottle guard + coriander soup + ½ cup brown rice + 1 cup veg (As per the list given) + ½ cup curd
8. Bedtime
1 cup Milk with a pinch of cinnamon powder
Diabetic Control Die

t:

Non-Vegetarian Diet Chart
Follow the diabetic diet chart for better results:
1. Early Morning
1 tsp. of methi seeds (soaked overnight, Gulp the seeds with water)
(You can take one fenugreek capsule each day as an alternative)
2. Breakfast
1 cup green tea + 2 egg whites + 1 yolk omelette + 1 slice multigrain bread
3. Mid-Morning
1 fruit (As per the list given)
4. Lunch
1 whole cucumber + 1 onion + 1 Chapatti (No ghee) + 1 cup vegetables (As per the list given) + 1-2 pc of boiled fish/chicken
5. Afternoon (2 hrs. post lunch)
1 cup green tea +1 tsp. flaxseeds roasted and grinded (Fish oil Capsules can be used as an alternative)
6. Evening Snack
4 almonds + 2 walnuts + 2 egg whites boiled
7. Dinner (Before 8 pm)
1 cup bottle guard + coriander soup + ½ cup brown rice + 1 cup veg (As per the list given) + ½ cup curd
8. Bedtime
1 cup Milk with a pinch of cinnamon powder
Diet Instructions For Diabetes
Foods Allowed In Unlimited Amounts
Follow the vegetarian diet chart for diabetic patient for sugar control to stay healthy & fit.
Raw salads like tomato, onion, cucumber, cabbage, carrot, capsicum, lettuce, etc.

Clear soups (No corn flour or butter or seasonings)

Thin buttermilk made from 1 part skimmed milk-curd + 3 parts water

Dal water

Plain soda

Unsweetened lime juice

Unsweetened gelatine

Natural spices, ginger, garlic, mint, coriander, etc.

Have a minimum of 8-10 glasses of plain water per day
Foods Allowed In Moderation/Prescribed Amounts
Cereals like chapatti, rice, jowar, bajra, nachni, etc.

Cereals – pulse combination like idlis, dhokla, khichdi, dal-dhokli, thali peeth etc.

Legumes like dal and pulses

Skimmed milk, paneer.

1-2 fruits from the permissible fruit list

White meats like fish or chicken (without skin)

Refined oil as a cooking medium. Pressure cook vegetables and then season in a broad based pan

Legumes like dal and pulses

Skimmed milk, paneer.

1-2 fruits from the permissible fruit list12. White meats like fish or chicken (without skin)

Refined oil as a cooking medium. Pressure cook vegetables and then season in a broad based pan.
Foods To Be Avoided
The following is a vegetarian diet chart for diabetic patient
Sugar, glucose, jaggery, honey, sweet and /or cream-biscuits, ice-cream, sweets, cakes, chocolates, pastries, jam, jellies, proprietary drinks, sherbets, etc.

Fried items like farsan (sev, gathia, vada, kachori, etc.), butter, cream of milk, cheese, mayonnaise, Khari biscuits, coconuts, groundnuts, dry fruits, egg yolk, fried fish, fried chicken, mutton, organ meats. Non-veg for diabetes is slightly harmful.

Oily pickles, fried papad.

Cold drinks, hard drinks, sherbets, proprietary drinks.

Fruits like Banana, mango, chiku, custard apple, fruit juice, fruit milk shakes, coconut water.

Vegetables like Potato, sweet potato, yam, colocasia, tapioca, raw banana

Sabu dana arrowroot
List Of Fruits For Diabetics
| | | | | | |
| --- | --- | --- | --- | --- | --- |
| Amla | – | 4-5 nos. | Orange | – | 1 medium |
| Apple | – | 1 medium/100gms. | Papaya | – | 2 small wedges |
| Cherries | – | 10 nos. | Peach | – | 1 medium |
| Dates(fresh) | – | 4 nos. | Pear | – | 1 small |
| Fig(fresh) | – | 1-2 medium | Pineapple | – | 2 slices |
| Grapes | – | 10-12 nos. | Plums | – | 2 medium |
| Guava | – | 1 small | Strawberries | – | 6 nos. |
| Jackfruit | – | 2-3 pieces | Sweet lime | – | ½ medium size(100 grams) |
| Jamun | – | 10 small | Watermelon | – | 2 big wedges |
| Melon | – | 1 big slice | Pomegranate | – | ½ medium size (100 gm.) |
| | | | Litchi | – | 10 nos. |
Points To Consider While Eating Fruits
1-2 fruits, in the prescribed amounts, are permitted per day.

Whenever possible, do not remove the skin of the fruits.

Keep a minimum gap of 2 hrs. Before/after food, while having a fruit.

Eat slowly, chewing each morsel of your food/fruits.

Avoid having fruit juices/fruit milk shakes/coconut water.
Special Instructions
Follow the diet chart for sugar control recommended by the nutrionists.
Use a minimum amount of oils while cooking food. Prefer methods like baking, roasting, boiling, etc. Boil vegetables in a pressure cooker and then give in the seasoning. Also remember to inculcate the habit of eating vegetables in kids because they have the threat of genetic diabetes.

Boil the milk, cool, refrigerate, remove the cream layer. Repeat the procedure twice before using for tea, coffee, curds, buttermilk, paneer, etc.

Soak 2 teaspoons of methi seeds overnight in a cup of water. Consume before breakfast. Similarly, soak the 2 teaspoons methi seeds in the morning in a cup of water and consume before dinner.
Follow the above diet chart for 6 days every week and eat your favorite cuisine on the 7th day without getting tensed about a hike in your sugar levels in diabetes, sugar peasant. Isn't it a golden deal?
We I'm doing out bit by providing you a few recipes that will aid you to keep diabetes in check without missing out on some lip smacking yummy food and some great diwali recipes!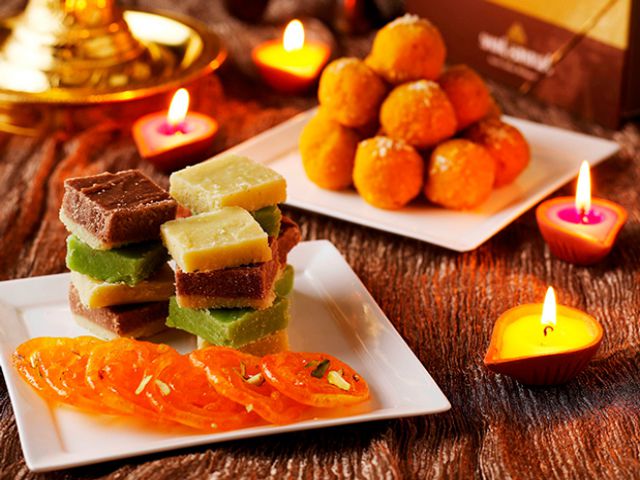 Diwali is one of the most widely celebrated Indian festivals, it is commemorated to celebrate the homecoming of Lord Rama with his wife goddess Sita and brother Laxmana, after 14 years of exile.
The preparations for one of the most important festivals in the Hindu calender are on in full swing, from purchasing new clothes to purchasing interesting Diwali gifts for friends and also for family memebers – one can't help but observe the festive spirit. Sweets play an essential role in almost every festival in India.
During Diwali, people indulge in and distribute yummy sweets like kaju katli, besan laddoo, coconut laddoo or dry fruits based mithai.
While everyone's merry making and also pleasing their sweet tooth, people who are suffering from diabetes have to be an extra cautious when it comes to their sweet intake.
What if we were to tell you that you can enjoy Diwali celebrations along with you share of sweet treats? Being diabetic does not mean that you have to give up on consuming sweets completely. Choose carefully and limit your portions.
Desserts

made at the best. Don't utilize full-fat milk if you're preparing sweets at home.
Also, replace sugar with few natural sweeteners such as jaggery and also dates. Here are few sugar-free dessert choices you can try at home for your Diwali celebrations.
Here Are Few Diwali Healthy Recipes!!
1. Ragi Coconut Ladoo (Ragi Coconut Laddu) Recipe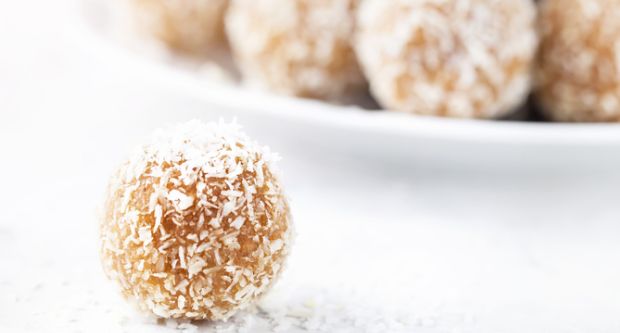 An extremely popular dish found in India, Ragi Coconut Ladoo is nutritionally high due to the large protein and mineral value present in its main ingredient, Ragi.
Here's a yummy ladoo recipe from the wholesome, healthy produced with

coconut, j

aggery and also crunchy peanuts.
Ingredients Of Ragi Coconut Ladoo (Laddu) Are
1 Cup Finger millet flour (ragi)

1/4 Cup Peanuts, roasted

1/4 Cup Coconut, grated

1/4 Cup Jaggery, powdered

A pinch of Salt
How To Make Ragi Coconut Ladoo (Laddu)?
1.Take the flour and salt in a small bowl and sprinkle water little by little whilst combining it but breaking them into crumbs as you keep mixing.
2.Combine in the coconut. Steam the mixture with coconut for 10-15 minutes.
3.Lay the whole mixture onto a tray and let it cool for sometime.
4.Mix the jaggery with the flour mixture and peanuts.
5.Roll them into lemon-sized balls and devour!
2. Ragi Malpua Recipe
This is a traditional recipe for malpua uses refined flour. This recipe utilizes ragi flour, atta and oats. Wholesome and guilt free.
Ingredients Of Ragi Malpua
For the malpua:
4 Tbsp Ragi atta

Rice bran oil per malpua

2 Tbsp Whole wheat atta

1 Tbsp Oats (ground)

To taste Freshly ground sugar

A few tablespoons of milk

Pomegranates

, to garnish
For the filling:
2 Tbsp Coconut, grated

2 tsp Organic honey

2 tsp Melon seeds

2 tsp green cardamom powder
How To Make Ragi Malpua?
For the filling:
1.Dry roast melon seeds combine with grated coconut for 2 to 3 minutes. Turn off the heat.
2.Include cardamom powder and honey. Mix well.
For the malpua:
1.Combine all the flours and add milk to form a runny paste. Then include the ground sugar. Whisk again.
2.Now take rice bran oil in a flat pan. Take a good quantity of the malpua batter and pour it in the center. Let it brown, and wait till the edges come away a bit. Then flip it and brown the other side.
3.Take it off the pan before it gets too crisp, or it won't fold.
4.Pack in the coconut mixture.
5.Garnish with blood red pomegranates.
6.Serve.
3. Two In One Phirni (Sugar Free)
Ingredients
Skimmed milk – 5 cups (1 litre)

Chhoti elaichi, seeds only, crushed – 6

Artificial Sweetener – ¾ cup

Rice – 1/3 cup (60 g), soaked in hot water for 40 minutes

Greeen color to taste

Pista, blanched and ground to a paste – 2 tablespoons (40 g)

Almonds, blanched and shredded – 10

Rose Essence – ¼ tsp

Vark (silver leaf) to garnish (optional)
Preparation
1. Place the rice in a mixer, with a little bit of the milk and mix fine.
2. Bring the milk to a boil, in a heavy- bottomed sauce pan. Include the ground rice and bring to a boil again.
3. Decrease the heat and simmer, mixing all the time, till the whole thing becomes one well blended mass. Takes about 30-35 mins (to test, you can drop a spoon full, let it cool and check to see if it sets ).
4. Shut off the heat, and include the cardamom and sweetener.
5. Divide the phirni into two and unite the pista paste to one portion and the rose essence to the other half portion.
6. Pour the white phirni into the decorated serving bowl and refrigerate to set (you can place the dish in the freezer compartment for a little while to hasten the setting of it), leaving the other half at room temperature
When the white set of portion, pour the green portion over it, cover with the vark, now garnish with the almonds and leave refrigerated to set. Serve it chilled.
4. Custard Apple Kheer
Ingredients Are:
5 nos – Custard Apple, large

100 gms – Jaggery

A pinch Cardamom powder

1 tbsp – Pistachios flakes

1 cup – Broken green gram, roasted

1 cup – Coconut Milk

1 tbsp

– Almond flakes

3-4 cups – Water
How To Prepare Custard Apple Kheer?
1. Clean and peel the custard apple, dividing the seeds and pulp.
2. Remove the seeds and store the pulp in refrigerated state.
3. In a pressure cooker, keep the roasted green gram and add 3 cups water, cook it till soft and also mashy.
4. In a nonstick pan keep the jaggery and cardamom powder and cook till the jaggrey melts.
5. Add the cooked green gram and also custard apple pulp to the jiggery mixture combine well, add coconut milk. Bring to a boil.
6. Garnish with nuts serve chilled.
Tip: Using Khajoor ka gur instead of sugar cane jaggery, gives good texture and taste to the kheer.
5. Sandesh Recipe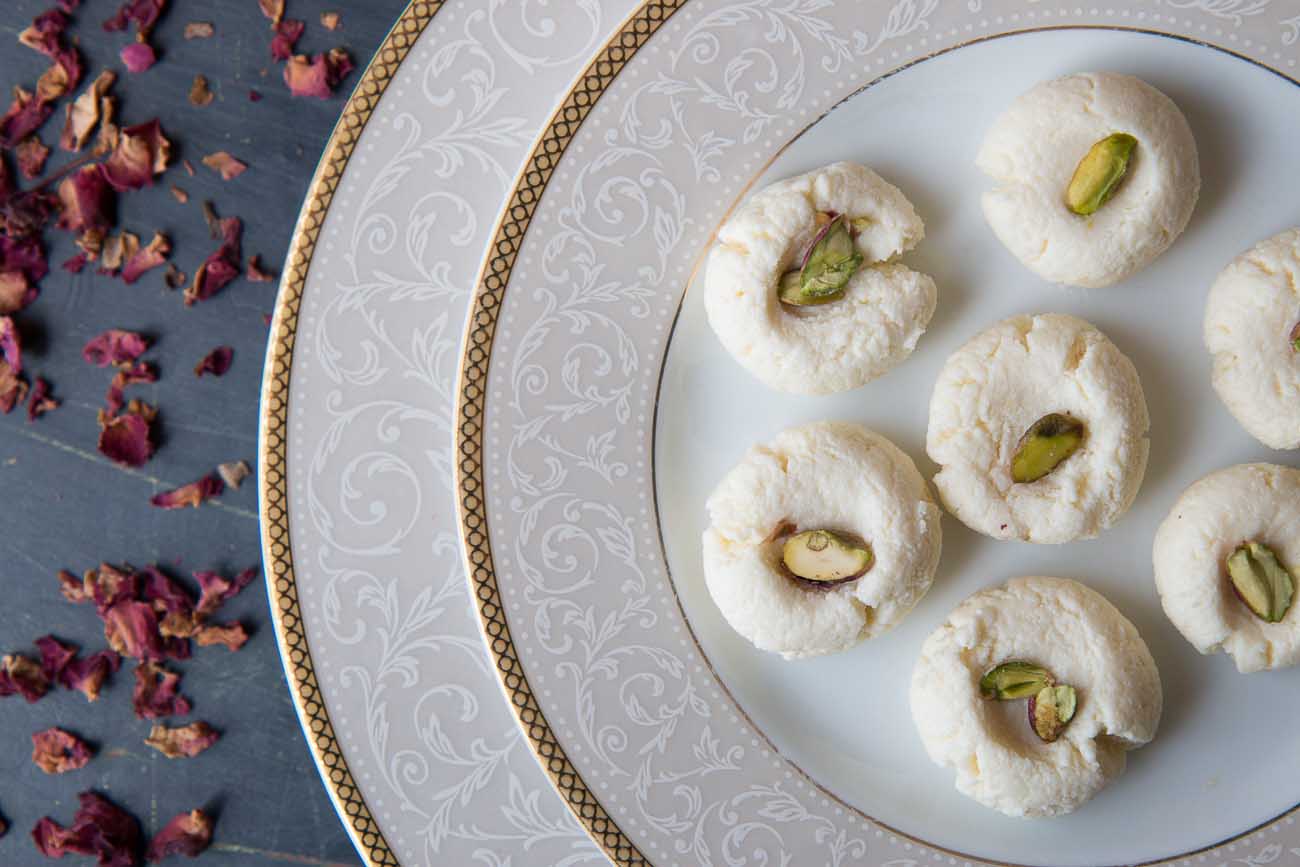 Bengal's super hit sweet, made with sweetened cottage cheese and flavored with cardamom and kesar.
Ingredients Of Sandesh
150 gm paneer (cottage cheese)

1/2 cup khoya – grated

4 green cardamom – crushed

Large pinch of kesar (saffron)

6 Tbsp sugar / gur

6 almonds – shredded thin lengthwise.
How To Make Sandesh?
1.Mix the paneer, khoya and also sugar/gur together till smooth. You can do this in a mixture or use the back of a katori to mash them together.
2.Combine in the elaichi and set in a layer about 1/2″ thick.
3.Refrigerate till set and cut into squares or diamonds and then serve.
Above all are the yummy and healthy diwali recipes everyone must try on auspicious day to enjoy the treat.
Along with preparing sweets and also other food items carefully, calculating the regular intake of calories on the Diwali day will also aid you enjoy with full vigour and enthusiasm.
You will be preparing all the sweets utilizing artificial sweeteners but try to avoid artificial sweeteners as much as you can. Consult your healthcare professional regarding the intake of artificial sweeteners and take health tips from your doctor on sweet consumption on Diwali.