Do you love strawberry?
Won't it be great if all the stuffs we love are also good for our skin and health?
Though, can't say this about all the food stuffs, but it is true with respect to strawberries.
You can enjoy strawberries in many form; as a whole fruit, strawberry juice, milkshakes, smoothies, jams, pies, strawberry desserts and chocolates and everyone's favourite the strawberry ice cream!
Strawberries are not only exceptionally yummy but also rich in essential nutrients, vitamins and minerals and are great sources of antioxidants.
Let's check out what this yummy fruit has in store for you more than just satisfying your taste buds
Below is a list of strawberry health benefits.
Strawberry Benefits for Skin
1. Strawberries As Skin Cleansers
You must have observed many beauty brands have introduced products like face wash, body wash, etc. containing strawberry for skin. This is because; the vitamin C, salicylic acid, antioxidants and exfoliants present in strawberry are very beneficial for your skin and hair care.
Salicylic acid removes dead skin cells as it tightens pores. The antioxidant, ellagic acid keeps skin young and fresh by fighting skin damage. Strawberries also exfoliate the skin and remove impurities while keeping it supple. It also gives you a glowing skin.
2. Protects From Sun Damage
Ellagic acid present in strawberries is the key player in protecting your skin from harmful UV radiations and thus preventing skin damage.
Researchers found positive results on protection from sun damage by topical application of ellagic acid. The compound is also found in the other members of the family like raspberries, cranberries etc.
3. Anti-Ageing
The best thing about strawberry fruit is that it is loaded with antioxidants and vitamin C which are great to prevent ageing caused by the build-up of free radicals in the body. Strawberry works wonder by blocking the free radicals from causing damage.
4. Reduces Pigmentation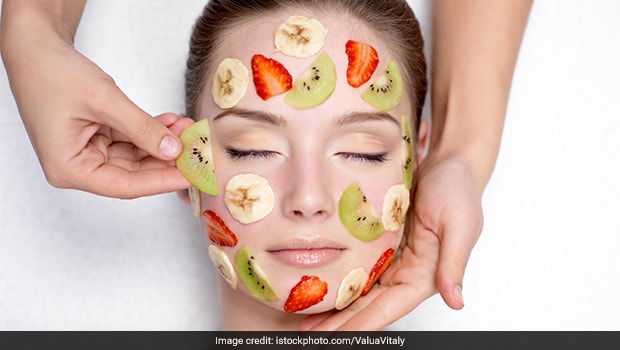 Research has shown that the oral ingestion of pomegranate and strawberry extract, both rich in ellagic acid, helps to lighten slight hyper pigmentation caused by UV rays, by inhibiting the synthesis of melanin, the chemical that gives skin its colour.
5. Anti-Acne
Strawberry is known for its properties of curing acne. Alpha-hydroxy acid (AHA's), vitamin C, salicylic acid and flavonoids are the real players that steer clear acne and reduce oil in the skin. These are the key ingredients in many of the commercial acne care products available in market.
Rejuvenates Your Skin With Strawberries
Vitamin C in strawberries helps in tissue repair and formation of collagen, an important protein for a healthier, younger looking skin. There are many benefits of Vitamin C but it cannot be stored in your body, so it must be replenished through your diet.
So gals, what are you waiting for, you have all the more reasons to eat strawberries. Grab a handful of strawberries to continue enjoying great skin.
Please share your experience and queries in the comment section below and also share some yummy strawberry recipes that come to your mind.