The parts of Neem tree have been generally used since ages as a therapeutic cure in the Indian systems of Ayurveda, Siddha and Unani medicines. Besides this, Neem has been one of the prime ingredients in many natural beauty products, considering their effectiveness in nurturing the skin and hair. Therefore, in this article, let us peek into some of the attributes of Neem for skin problems.
Neem, also called as Indian lilac or Azadirachta indica is a famous herb used in ayurvedic and homeopathic medicines. Native to India and other parts of Asia, Neem is an excellent herb for treating various ailments because of its amazing medicinal properties. This article is focused on the health benefits of Neem oil.
There are plenty of beauty benefits of Neem by using it in the form of face wash and it is rightly called as a gift from nature. The color of this famed varies from yellowish to dark brown, reddish to greenish brown or golden yellow to bright red. Neem is extremely bitter in taste.
The Neem or Azadirachta indica has a harmonious relationship with the people of India and other Asian countries. It not only provides cool shade but offers numerous health benefits to mankind.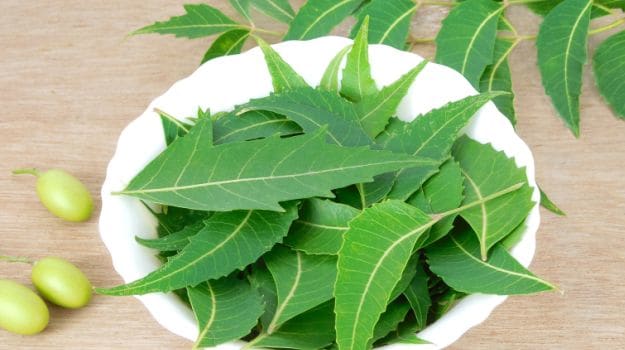 If you're searching for a natural herb to help you solve your skin problems, then there is none better than the Neem leaf. Popularly known as the 'wonder leaf', Neem is often not recognized for its beauty benefits. By including Neem in its various forms, we can assure glowing and healthy skin.
The most common way to use this herb is to grind the leaves into a paste. All that needs to be done is to dry the leaves, make a powder and add a little water to form a paste. Oils, soaps, face washes and creams are also available options in the market. But let's go natural for now.
Using Neem for Skin Problems
Since ancient times, Neem has been widely used as an effective remedy for treating most conditions ranging from acne to psoriasis. Here is a list of how to use Neem for eczema and a wide variety of other skin problems.
Neem to Treat Scabies
Neem in the form of face wash has been widely used as an alternative remedy for treating the symptoms of scabies. This occurs due to infestation of a mite, Sarcoptes scabiei, that penetrates into the skin to feed on blood and cause symptoms of itching. Neem, however, helps eliminate them and aids in getting rid of painful symptoms like inflammation and itching, decreasing skin redness and keeping the skin smooth.
One of the best remedies for scabies is to soak neem for fifteen or twenty minutes in a bath mixed several spoons of Neem combined with liquid soap. After the bath applying a Neem based lotion/cream on the infection, helps soothe the symptoms. The list of ways to use Neem for skin problems is off to a great start! You can also use Neem in the form of face wash.
Neem to Treat Herpes
Herpes, an oral or genital condition caused by herpes simplex virus known as HSV-1 or HSV-2 produces symptoms of itchy painful sores and blisters. This condition, like many skin conditions, does not have a fix-it-all cure and instead requires constant treatment to mask the symptoms. Nevertheless, the antiviral and antihistamine properties that exist in Neem help relieve the lesions and ease symptoms. Applying Neem face wash on the blisters, helps accelerate healing by reducing burning and pain associated with this condition.
Benefits of Neem for Eczema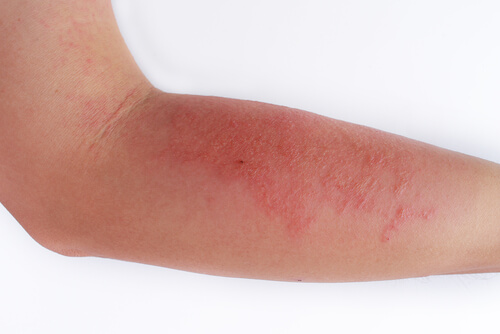 Eczema, or dermatitis, is a very common inflammatory skin disorder that generally produces the  symptoms of excessive itching, redness, skin cracking, weeping and dryness, often leading to secondary infections. The solution most people tend to take when dealing with eczema is to scratch the affected area. Believe it or not, this only makes the condition worse, causing it to ooze and potentially spread to other places. Since this condition is hereditary, there is no cure for eczema except to manage the symptoms.
Some of the ways to avoid a flare-up of eczema is to steer clear of things that might trigger an allergic reaction in the skin such as animals, dust, pollen, soaps and perfumes, mold, certain medications, wool, or smog. However, because some of these are practically unavoidable, you need to turn to a consistent and natural way to keep the symptoms under control in a way that won't do more harm than good to your skin.
Fortunately, Neem face wash contains anti-inflammatory substances like nimbidin and nimbin helps ease symptoms of redness and swelling, replacing the irritated, cracked skin with a soothing sensation. If you suffer from eczema, this sounds like a dream come true.
Quercetin present in Neem promotes the body's response to inflammation by restricting the production and release of irritants in the body. Besides Neem, loads of essential fatty acids and vitamin E content restore the protective barriers of the skin, protect loss of moisture, and heal cracked and dry skin. Above all, the skin antiseptic properties.
Besides Neem, with loads of essential fatty acids and vitamin E content restores the protective barriers of the skin, protects loss of moisture and heals cracked dry skin. Above all, the skin antiseptic properties protects from bacterial and secondary skin infections. Therefore, for best results and for skin hydration add a few spoons of Neem to bath water and follow it up with a Neem-based lotion on moist skin. Using Neem face wash for eczema is a great way to combat the irritating symptoms without damaging your skin or creating nasty side effects. You can also use in the form of face wash and moisturizer.
Neem for Psoriasis
Psoriasis is a chronic inflammatory skin condition triggered by environmental factors. The symptoms manifest as dry scaly reddened skin patches with severe itching. An autoimmune disorder, psoriasis produces rapid growth and renewal of skin cells within days while the normal process takes months. This condition leads to accumulation of dead skin cells on the surface of the skin.
The dead cells grow from the innermost layers of the skin and appear in silvery patches on the surface. Neem possessing antimicrobial, antihistamine and anti-inflammatory substances help dispel pain, itching, redness and skin inflammation. Further, the Neem face wash combats the bacteria that settle in the cracked, broken skin and owing to the antiseptic substances provides healing.
Using Neem for Fungal Infections
Neem makes an excellent remedy for common fungal infections like ringworm, athlete's foot, and nail fungus. This is because the active antifungal properties in the neem face wash destroy the fungi responsible for instances of fungal infections. To get rid of such conditions, place a couple of drops of Neem on the affected area twice or thrice a day. For excellent results, repeat this process until it heals completely.
Benefits of Neem for Skin Pigmentation
Skin pigmentation occurs due to excessive production of melanin. However, Neem helps regulate the production of melanin and helps clear the skin, giving you a smooth, consistent color for your skin. Apply a few drops of Neem on the pigmented regions and massage gently in circular movements. Leave it overnight and cleanse the following morning.
Neem to Treat Acne
Acne is caused when the pores on your skin become blocked, keeping the sebum ( that your body produces naturally) from escaping and allowing it to build up behind your pore. This buildup is the pimple. The pain that you may experience is due to an infection of bacteria that feed off of the sebum. As gross as it sounds, acne is among the most common skin conditions plaguing us today.
The antibacterial and antifungal properties present in Neem helps combat acne. Neem contains a substance similar to aspirin that helps destroy the acne causing bacteria. Further, since Neem possesses high fatty acids, applying a few drops of Neem on acne and leaving it overnight helps get rid of acne and protects the skin from further breakouts.
Neem for Scars & Marks
Neem with skin friendly properties is an amazing solution for treating scars and marks. Apply Neem face wash on the skin marks and leave it for 5 minutes and now rinse it off. Wash it with cold water in the morning. Regular application of Neem face wash will gradually help the scars to fade.
Neem is Helpful for Dry Skin
With excellent skin conditioning properties, Neem face wash is one of the best-recommended remedies for alleviating dry skin, especially on the face, legs and hands. Neem helps retain moisture when applied on the skin, due to the natural hydrophobic tendencies. Besides, the locks to the skin without being washed off while washing the hands and face to get rid of dirt and grime. They are plenty of neem face wash benefits.
Anti Ageing Benefits of Neem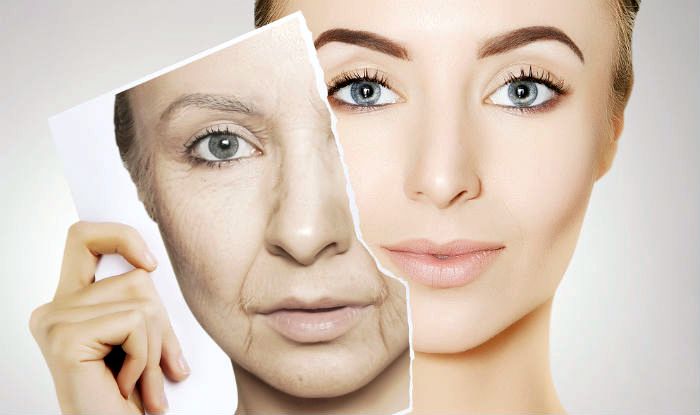 Neem counteracts the harmful effects of the harsh ultraviolet rays of the sun. With exposure to the sun's rays, the skin's collagen becomes damaged resulting in fine lines and wrinkles. This process is known as the photo aging wherein the skin has a tendency to age as in the normal process. Moreover, the harsh UV rays of the sun producing free radicals in many instances lead to skin cancer. Nevertheless, the skincare properties existing in Neem works as an amazing post exposure remedy for your skin. The antioxidant substances in Neem help counter the free radical damage, while the anti-inflammatory substances help assuage skin discoloration and pain. Further, the huge amounts of fatty acids in the help restore collagen and rejuvenate skin.
Using Neem on Cuts & Bruises
Neem is an excellent antidote for wounds, cuts, and bruises. The antiseptic, anti-inflammatory properties in the accelerate healing and clear bruises.
Neem for Warts & Moles
Neem is an effectual treatment option for eliminating unsightly moles and warts. The chemical components in the eliminate the virus by absorbing the virus and protecting from further occurrences. Topical application of Neem using a soft cotton ball and cover with gauze helps warts fall off gradually. However, it is imperative to repeat the process until the warts come out completely.
It controls the effects of oily skin
You can counter the excessive oil secretion by sebaceous gland using a neem cucumber face pack.  Using a facepack consisting of neem leaves, yogurt and lemon for twenty minutes will keep your skin free from grease. It effectively sets a smooth skin tone.
It aids exfoliation
Dead skin cells can be easily removed from your skin using neem leaves. With age, our skin can get a dull complexion due the death of many skin cells. Exfoliating the face on a weekly basis will bring back your glowing skin. Adding ground orange peel powder and olive to the neem paste will act as the perfect face scrub. Wash it off after fifteen minutes using lukewarm water. Doing this clears the skin pores and causes the blackheads and whiteheads to vanish slowly.
By using neem in the form of face wash or moisturizer you can get all the above beauty benefits.